Skip to main content
Even though close in proximity, preventing signs of aging in the neck area often take a back seat to facial skin care and aesthetic maintenance. The natural aging process, sun exposure, smoking, and weight fluctuations can all be attributed to sagging and excess skin, wrinkles, fatty deposits, and horizontal bands around the neck and under the chin. Fortunately, our board-certified plastic surgeon in Waldorf, Dr. Ayman R. Hakki, offers neck lift surgery to remove excess skin, tighten descended muscles, and smooth the neck area and jawline for a rejuvenated, more youthful appearance.
Quick Facts About a Neck Lift:
Procedure: Outpatient with general anesthesia
Ideal Candidates: Individuals experiencing sagging skin, wrinkles, and horizontal neck banding
Recovery: About 4-7 days before resuming light activities for most patients; 4-6 weeks before resuming more strenuous activities
Primary Benefits: Improves signs of aging on the neck with sleeker, more defined contours
Cost: Neck lifting alone (without a facelift in combination) starts at approximately $10,000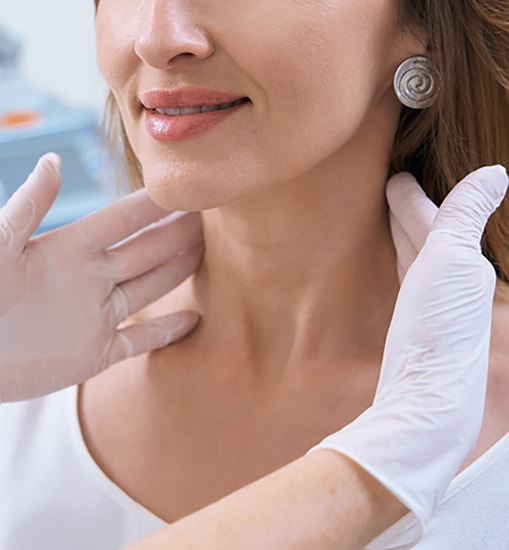 How Much Does a Neck Lift Cost?
At Luxxery Boutique, the starting price range for neck lift surgery is about $10,000. The exact cost will be based on each patient's individual treatment plan determined during a consultation with Dr. Hakki. Estimated pricing typically includes the surgeon's fee, anesthesia, use of the surgical facility, and follow-up care; however, other fees may apply. Our team will be happy to review all costs with you, along with payment and financing options for eligible applicants, to help you find the most financially convenient way to achieve your cosmetic enhancement goals.
To learn more about neck lift procedures at Luxxery Boutique, or to schedule a consultation with Dr. Hakki, contact us today.