Is a Rhinoplasty Right for You?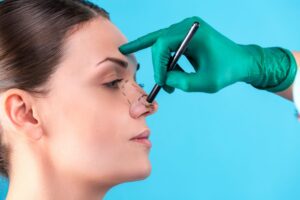 Getting a rhinoplasty can be a rewarding decision. Cosmetic nose surgery, more commonly called a nose job, not only has the ability to impact your appearance and boost self-confidence, but it can serve a functional purpose, corrects blockage of the nasal airway passages that can improve breathing. Whether you have aesthetic concerns about your nose stemming from an injury or is unhappy with a particular physical feature of your nose, rhinoplasty surgery may be a great option for you. Continue reading to learn more about rhinoplasty and decide if it's right for you.
What is Rhinoplasty?
Harvard Health Publishing defines rhinoplasty as a "surgery performed to alter the way your nose functions and looks." It is one of the most commonly performed plastic surgery procedures, and one of the most challenging to perform because of the composition of the nose. The shape and appearance of the nose are created by cartilage, soft tissue and small bones, and alterations to one or more of these features can lead to dramatic changes.
Before, During and After a Rhinoplasty
Before the surgery takes place, your doctor and care team will give you specific instructions that will aid in your preparation for your surgery. Common things that you may be asked to do includes, getting lab work, taking certain medications or make adjustments to current medications you are taking, halting smoking, avoiding certain foods and drinks and stop taking any substances that can increase the risk of bleeding, like aspirin, herbal supplements, and anti-inflammatory drugs.
Rhinoplasty, though largely an outpatient plastic surgery procedure, anesthesia is required. During surgery, the plastic surgeon typically works on the cartilage, soft tissue and small bones of the nose to improve function and/or aesthetics, As such, it is best to make arrangements for someone to drive you home after surgery, and remain with you for the first night after surgery. Pain medications are typically provided, which most patients tend to take for only a few days.
After surgery, your care team will provide you with individualized instructions on caring for your surgical site and identify and guide you on particular complications that you should be careful to notice. While at home, sleep should occur in an elevated position a few days post-surgery to minimize swelling and bruising, which can occur around the eyes and cheeks. Within three weeks the swelling and bruising should diminish, and appearance improved, but it could be a year before complete/desired results are revealed.
Reasons to Consider a Rhinoplasty
Alter the appearance of your nose, be it size, width profile, tip or asymmetry
Improve your breathing that is caused by a deviated septum
Complement your ethnicity by enhancing the nose and balancing the features
Correct irregularities caused by injury or trauma
If you are thinking about getting a rhinoplasty, do your homework and find a team that can give you the result that you desire. Luxxery Boutique can help you to achieve your rhinoplasty goals, whether it's enhancing your features or to improve nasal function. Contact us today!